Description
Dytran's next generation vibration recorder enables engineers to capture on–the–spot 6DoF, static, and dynamic acceleration measurements at the press of a button!
Easily installed, user configurable software optimizes data collection while built–in firmware handles acceleration in three axes as well as gyroscope data on the removable Micro SD–card. The 4401A2 also features a software controlled relay for the operation of external components such as cameras, indicator lights, and other accessories.
Software Download (Click the link below)
Windows software necessary for analyzing data collected with the 4401A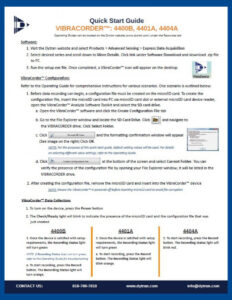 VibraCorder™ Quick Start Guide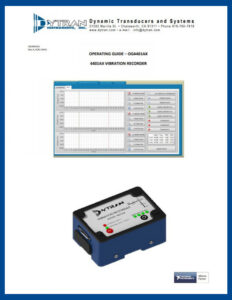 4401A Operating Guide
VibraCorder™ II System Includes: 
Model 4401A2 Vibration Recorder
microSD card SanDisk Extreme Plus 32GB
(1) Mounting plate
(4) Mounting screws (10-32 x .75)
Software Toolkit: Download using link (see above)


Device Specifications:
 

Lightweight (425 g) and field ready at 3.95 [100.3] x 2.75 [69.8] x 1.65 [41.9] inches/mm
Multi-day recording time with targeted relay software settings 
Low battery indicator with emergency file save feature
Screw mount

Data Collection Features: 
 

Internal relay allows for control of external devices such as alarms to notify operators or enabling of cameras
Anti-alias filtering
Software Features: 
Easy-to-install software for viewing collected data and configuring hardware run modes
Built-in firmware handles acceleration in three axes acceleration and gyroscope data storage on the microSD card
Several sampling rates available: 250, 1200, and 4280hz
Immediate data retrieval from the microSD card to a PC
Easy cursor operation for data selection, zoom, and cursor alignment
Data overlay
Oversampling
FFT analysis
Time Synchronous Averaging
Data export to multiple formats
Real-time stamp
Portable Vibration Recorder: The VibraCorder™ II
See the Dytran team hit the local trails to test our powerful and portable VibraCorder™ II (Model 4401A2)! The new VibraCorder™ II is an innovative and cost-effective solution for capturing critical transportation environment dynamics. It is so lightweight that it can be mounted on a bike frame, and is also rugged enough to thrive in harsh environments. This next generation vibration recorder is equipped with a removable SD-card that captures 6DOF, static and dynamic acceleration measurements and also includes roll, pitch and yaw. Check out the video to see how the VibraCorder™ II records data as the bike hits the trails!